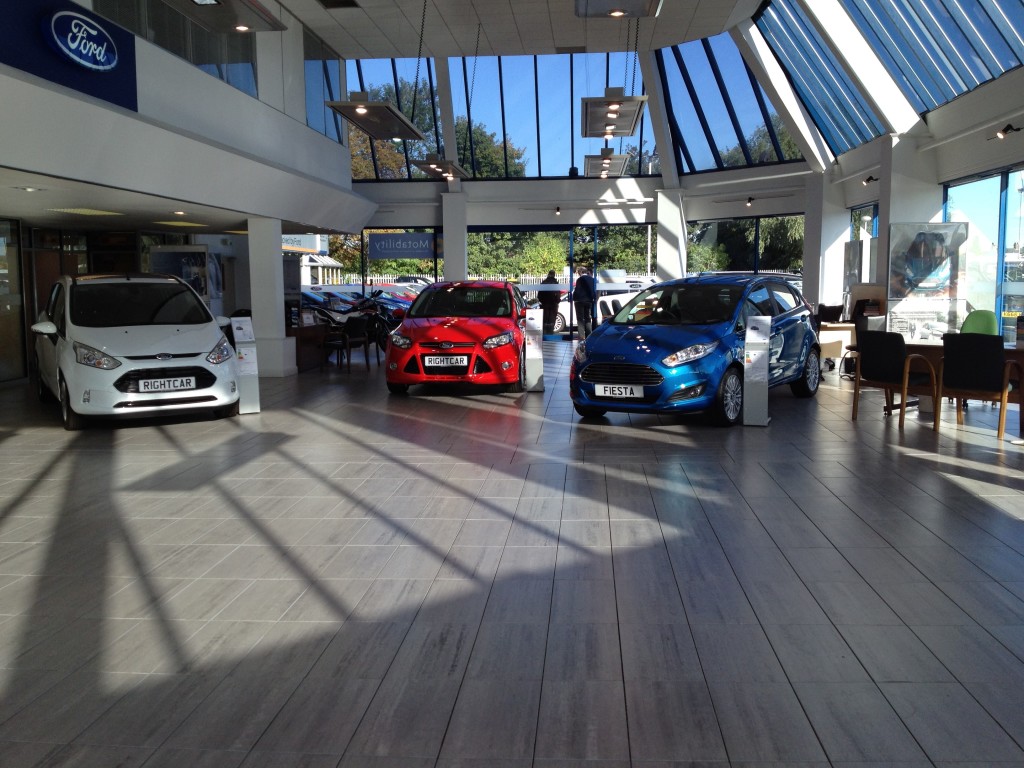 Ceramic Tile Merchants Ltd. has completed another stunning installation using Ultra Tile adhesives and grouts after receiving advice from the brand's technical department.
Right Car of Hull and Beverley, one of the top Ford dealerships in East Yorkshire has just completed a major refurbishment of their Beverley showroom, in readiness for the arrival of new Ford fixtures, fittings and models.
TTA member, Ceramic Tile Merchants were selected to supply and fit 600x300mm 'Ford Lightstone' porcelain tiles in the new 500m² showroom floor.
Car showrooms are in constant and demanding use and it is essential that the floor can withstand the pressures of vehicle and foot traffic for many years.
Ceramic Tile Merchants sought advice from the Ultra Tile Technical Department on the most suitable adhesive and grout for this project.  Following recommendation they used best-selling adhesive, ProFlex SP and FlexJoint grout.  "We sought the best advice…" said Garry Cammidge, Ceramic Tile Merchants' Managing Director, "…and were delighted with the speed of response.  They [Instarmac] were able to advise us based on their experience of similarly demanding applications."
There are many ways to contact the Ultra Tile Technical Department, an instant chat service has recently been added to the company's website.  With the more traditional methods of email, telephone and in person also still available.  Trained and experienced representatives are happy to conduct site visits if required.
Contact Ultra Tile to discuss your requirements.  Please visit www.ultratileadhesives.co.uk or call 01827 871871.