Knauf GIFAfloor raised flooring system has been utilised in Domus Tiles' newly extended and refurbished London showroom in Battersea, creating a unique space where design meets practicality.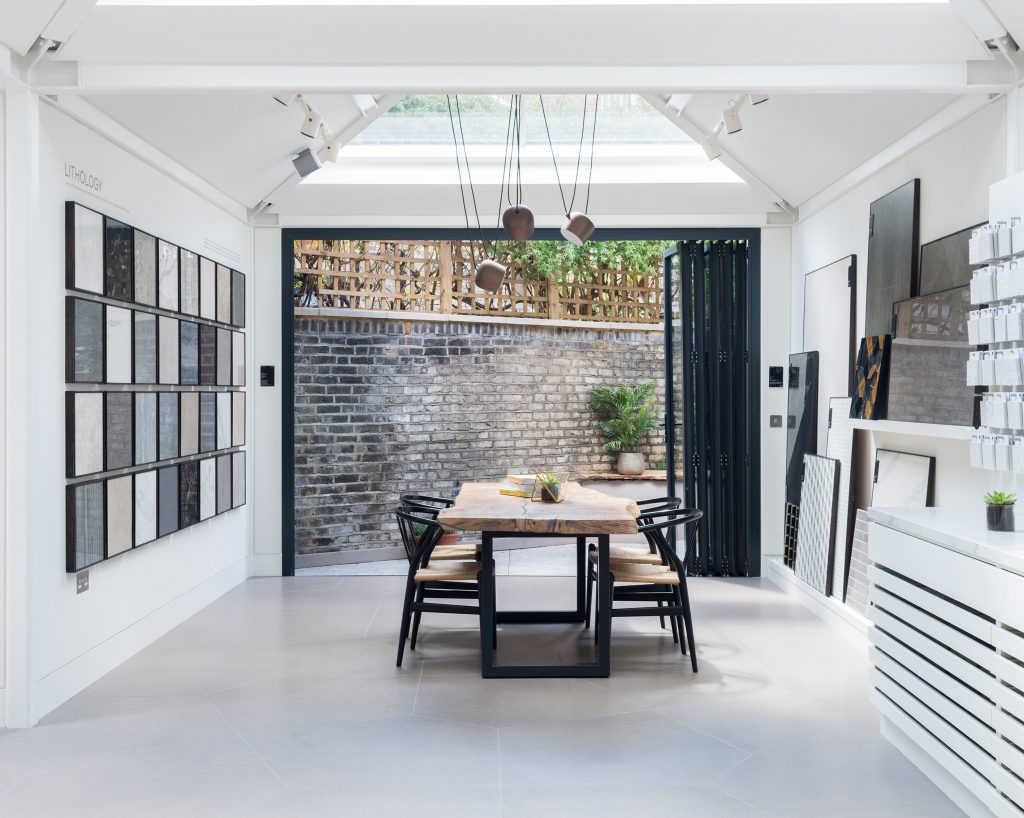 Used as a dry screed flooring solution, contractors installed the GIFAfloor system knowing it would save them time whilst delivering Domus with the load bearing solution required to support their very heavy stone displays and large visitor numbers.
With the GIFAfloor system having been used at several other Domus showrooms across London, architects at Mailen Design, responsible for the design of the new facility, opted for the reliability of the Knauf floor system.  The engineered flooring panels, manufactured from over 50% recycled materials, are extremely dimensionally stable and robust, more than capable of tackling the heavy foot traffic expected.
The refurbished Domus showroom at Battersea presents the vast array of Domus materials, products, displays and room-sets designed to stimulate architects and interior design teams. From its elegant kitchen showroom to the new Stone Studio, the space will allow for the creative mind to flourish while being backed by extensive technical design support.
Commercial Director at Domus, Alan Collie, explains the relationship between Domus and Knauf: "We have a very strong relationship with Knauf as it is a key ancillary support partner of Domus.  The Knauf team provides us with great advice through its technical support service which in turn allows us to provide a detailed and comprehensive specification to architects.
"Knauf GIFAfloor gives us the perfect subfloor for our range of flooring finishes and with floor tiles becoming larger in size and thinner in profile you now require a dry screed system that exceeds SR1 tolerances.  With GIFAfloor, aside from the exceptionally fast installation speed, once it is installed you are given a perfect floor that can then be tiled directly onto.

"In the last five years where we have had GIFAfloor installed at our Clerkenwell showroom we have seen more than one million visitors come through our doors and yet we have not had a single crack and that's because it's a perfectly stable floor.  Domus has taken the position to continue to use Knauf products because of the example set in the Clerkenwell showroom which remains in the same condition today as when it was first installed."
Immensely strong and versatile, Knauf GIFAfloor system manufactured from natural gypsum based calcium sulphate is ideal for raised floor areas requiring continuous or hard finishes such as stone or large format porcelain. This partial-access raised floor system provides the ability to run services under the floor with ease.
Knauf GIFAfloor panel systems are designed to span, be it across pedestals, joists or acoustic battens at maximum 600mm centres, creating extremely strong and dimensionally stable floors over voids up to 1200mm high.  Due to the tongue and groove design the GIFAfloor system is flat and smooth once installed, with the added advantage that the joints will not track through the applied finish.
Tasked with installing the GIFAfloor in Battersea was Accsys Projects Ltd one of the leading independent installers of raised access flooring in the UK.  Construction Director at Accsys Projects, John Deely, said the company has had years of experience installing the GIFAfloor system as it works hand-in-hand with Domus products.
"The Knauf GIFAfloor system is extremely efficient in reducing programme times over a more traditional method of installation such as screed.  It also helps with refurbishment projects in occupied buildings where wet trade would create additional issues.  It also provides a solid structure for the Domus products," John explains.

"The nature of the product also allows for design flexibility for each client as the void space can still be utilised to run both mechanical and electrical services.  With traditional screed solutions this would not be possible."
Designed to incorporate access frames and access panels the GIFAflooring systems provide an easy route to the service void below the floor.  Access systems are available in 600 x 600mm configurations as standard to suit most access requirements while bespoke sized access frames can be created to suit individual demands.