Airey houses in West Norfolk are being restructured and clad with External Wall Insulation (EWI) by Saint-Gobain Weber to improve their thermal performance and aesthetics.  The properties are owned by Freebridge Community Housing who own and manage almost 7,000 homes in the region.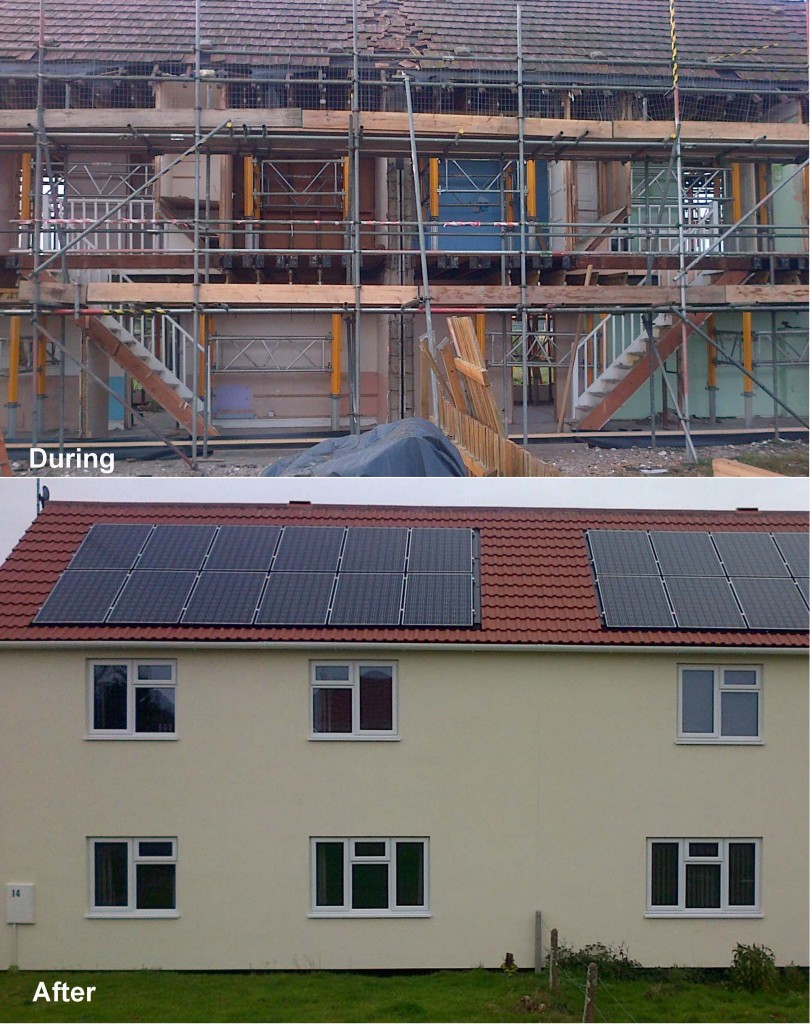 Freebridge runs a well planned maintenance strategy and for a number of years have been renovating and insulating their portfolio of Airey houses.  Currently this programme is being managed by Foster Property Maintenance as main contractor with Network Weber recommended applicator Cornerstone as the specialist EWI applicator.
The Airey house features pre-cast, large format blocks as cladding hung on a reinforced concrete frame structure. These buildings offered a fast-build solution to post World War II housing needs but delivered little in the way of insulation and performance values.
Like many of the pre-fab schemes of the time, the Airey house was considered a temporary fix but 70 years later many are still standing and have provided robust if not warm homes. EWI is the ideal thermal efficiency solution but in this particular project structural capacity was a major concern.  Adding substantial insulation material and weatherproof render systems directly to the pre-cast panels was ruled out due to load bearing restraints and a more comprehensive replacement walling scheme was introduced in conjunction with the Weber EWI system.
The approach to the restructure of these properties involved a major renovation process that included lifting and supporting the entire roof structure.  The pre-cast ship-lap style concrete panels were also removed as well as the front and back framework.  A modern timber stud frame was then installed with ply cladding and a vapour barrier.  The roof structure was then lowered back into position, additional roof insulation added, and retiled.
Cornerstone have applied the BBA certified and Energy Saving Trust listed weber.therm XM (EWI) system which features 120mm of grey expanded polystyrene insulation boards fixed to the ply sheeting before the application of two layers of weber.rend LAC which encapsulates mesh cloth reinforcement.  A primer coat is applied in preparation for the final finish of weber.sil TF150, a silicone-based, through coloured decorative finish which offers a highly weather resistant and vapour permeable surface.
A typical un-renovated Airey house construction is expected to have a U-value of 2.0 W/m²K.  Saint-Gobain Weber has calculated a very impressive U-value of 0.15 W/m²K with the application of 120mm weber.therm EPS to the insulated timber frame construction which will provide a greatly improved living environment for Freebridge's tenants.
Tom Eden, joint managing director of Cornerstone Limited, says:  "We have successfully installed Weber EWI systems to hundreds of Freebridge's non-traditional housing stock over a six year rolling programme.  The weber.therm XM system was chosen for its reliability and proven track record, together with the professional support and guidance provided by Weber's technical team throughout the term of the contract.  This system incorporates a premium grade EPS insulation board and a silicone coloured decorative final render coat to ensure the houses are finished looking clean, bright and completely rejuvenated.   Both Fosters and Cornerstone have worked closely together to ensure the works have been completed to an outstanding standard whilst ensuring the tenants are left extremely happy and satisfied with their new house."
A further 100mm of insulation has been applied internally before plastering takes place. This combined 220mm of insulation, together with the external render and internal plaster, ensures superb thermal efficiency on buildings that were previously high cost thermal failures. The exterior aesthetics are greatly improved with the use of pale colours such as Double Cream, Warm Biscuit and Winter White and is responsible for changing the whole visual aspect of the street scene for the better.
Today many Airey houses, mostly found in rural locations due to the ease with which the prefabricated sections could be transported, are in disrepair.  The refurbishment plan to improve the thermal efficiency and the aesthetics to the external façade, with a variety of decorative finishes, is resulting in warmer and more structurally sound properties.
For more information about this project, or for technical support, please contact Saint-Gobain Weber on 08703 330 070, or visit www.netweber.co.uk.  Customers in Ireland should call 028 9335 2999 or visit www.weber.ie.  A free download of the new weber.app for iPhone and iPad users is also available from iTunes and from Google Play for Android smartphones and tablet users.  Follow Saint-Gobain Weber on Twitter @SGWeberUK for the latest company news and updates.