A suite of products from the Dryzone range of products developed by Safeguard Europe – the UK's leading specialist in damp-proofing and waterproofing technology – swiftly eradicated damp from a late 1950s house in the Allestree district of Derby.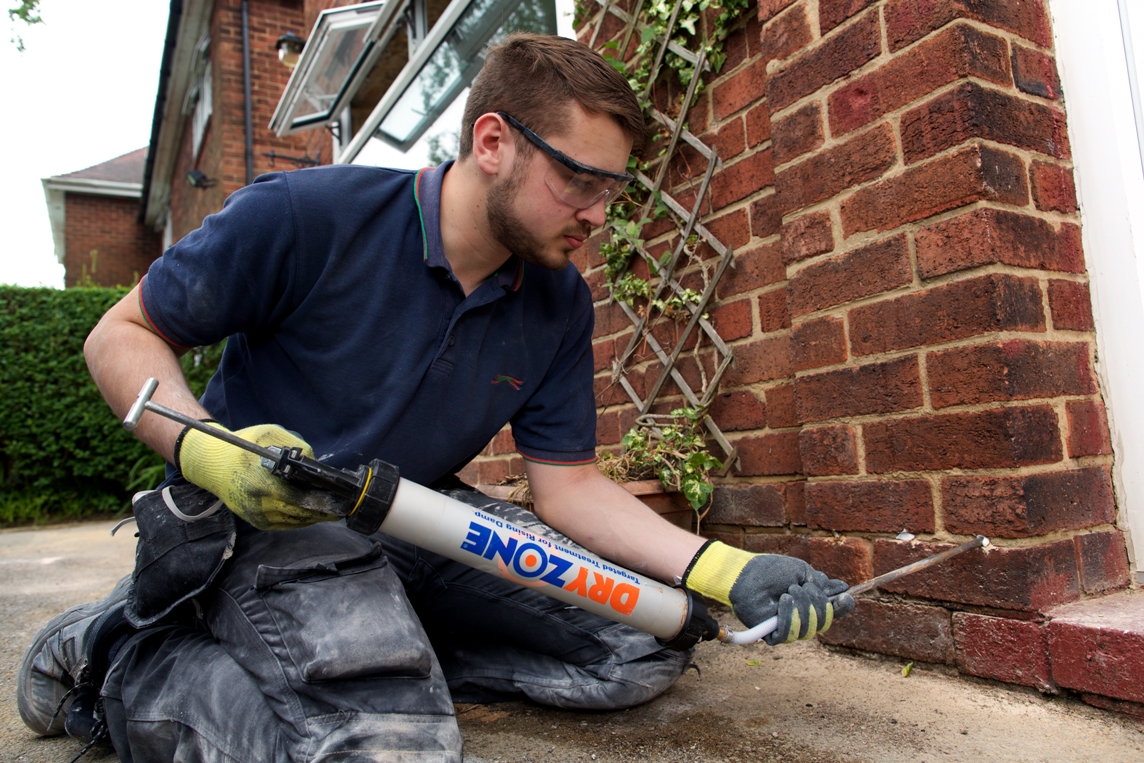 According to contractor Paul Walker, of CK Walker Damp & Timbers, the main issue was that the existing damp proof course (DPC) had been bridged when a drive was installed. This was then compounded by a blocked drain and a condensate pipe from the central heating boiler splashing water onto the base of the wall.
"We recommended lowering the external ground levels so that the DPC level was more than 150mm above ground level, but this wasn't wholly practicable, so we applied Dryzone Cream, which forms a chemical DPC," said Paul.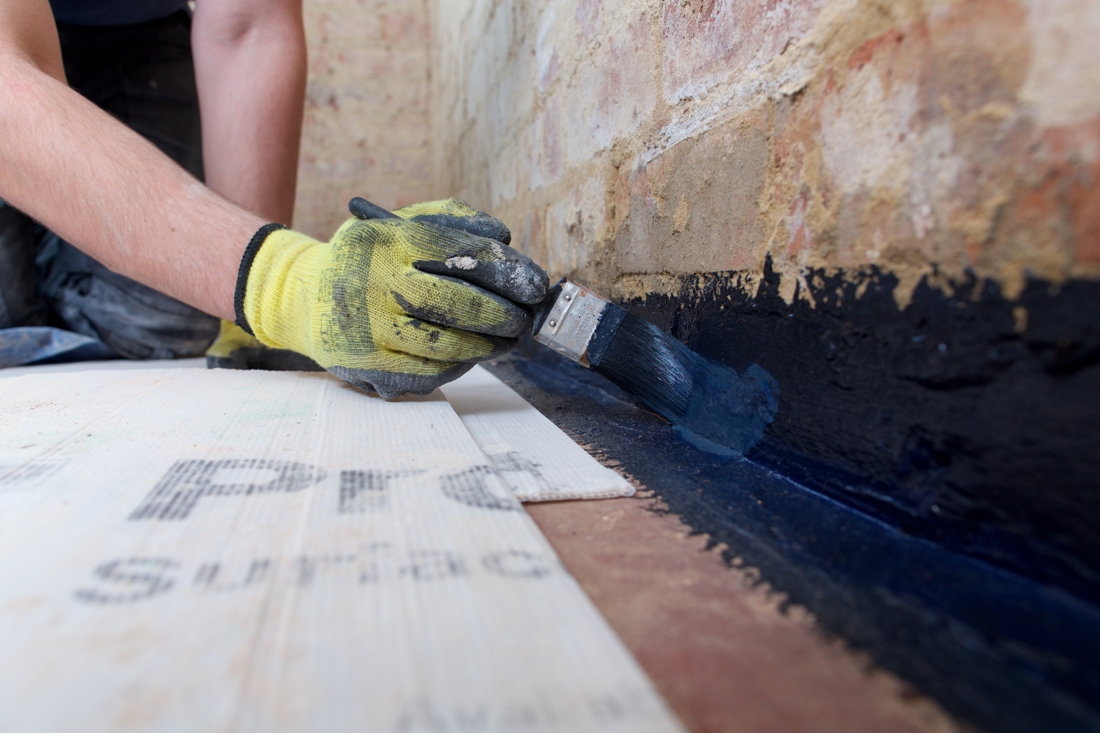 Dryzone Cream is a BBA-approved and patented silane/siloxane material that forms a DPC in brick, coursed stone, rubble infill and cavity walls. Unlike other chemical DPCs, it is not injected under pressure, so not only is it up to three times faster to install than alternative chemical injection systems, but also presents less risk of waste or spillage.
Internally, the plaster was very badly damaged – partly because it had been taken down to floor level and so had breached the DPC – so it had to be removed to one metre above the DPC and was then replastered with Dryzone Damp Resistant Plaster. Unlike traditional strong sharp sand and cement mixes this highly effective Safeguard renovation plaster can be applied to walls while they are still damp and has a porous structure that controls salt migration, allows walls to dry out by evaporation and results in higher thermal resistance, reducing the risk of condensation.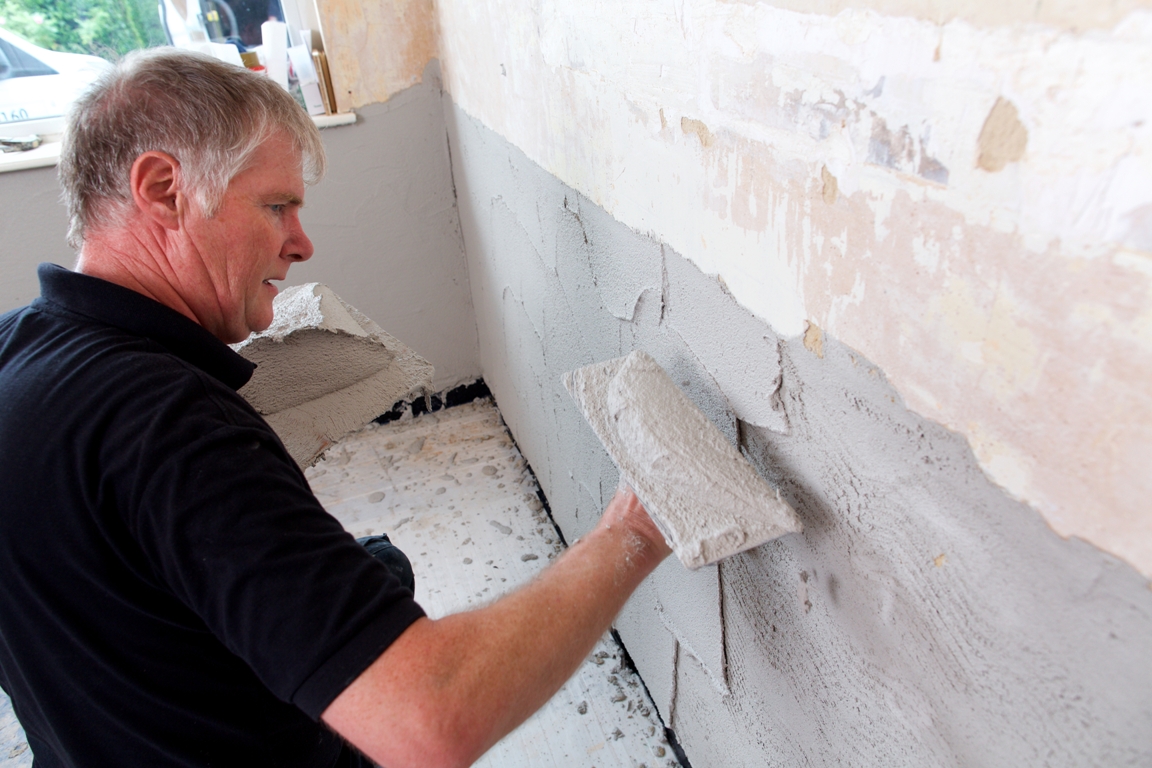 "I like this product because it's a pre-mixed material that offers a warmer surface that's less subject to the risks of condensation when it's dry. We've been using it for a while now and it dries nice and solid overnight – and keeps salts and damp out," Paul comments.
"Then we had to seal the junction between the floor and the wall to ensure that there was no way that any water could come through so we applied with Drybase Liquid-Applied DPM". This is a liquid, polymer-based barrier coating resists penetration by water, gases – such as methane and Radon – salts and other liquids through masonry, stone and concrete. Correctly applied, it is water resistant to 20 metres head of positive pressure, and 10 times more resistant to methane than low-density polyethylene (LPDE).
Although usually applied by brush or roller, in this case it was applied by brush to ensure it waterproofed around masonry detailing and other hard-to-reach areas. Supplied as a ready-to-use single pack system, Drybase Liquid-Applied DPM is water-based, solvent free and available in black or white. It has a consistency similar to that of thick emulsion paint.
Dealing with the chimney required another weapon from the Safeguard armoury: Vandex BB75 tanking slurry. "There is always salt contamination in chimneys dating back to when they were in use so this slurry stops that and forms an effective barrier between the brickwork and the plaster," said Paul.
Once cured, Vandex BB75 tanking slurry forms a waterproof coating that can be employed against both passive and active water pressures up to 7 bar – and so is particularly suited to waterproofing underground. It will bridge up to 0.4mm in concrete and can be used to fill cracks and protect areas of potential cracking. As a result, it is ideal for heavy duty applications such as retaining walls; underground car parks; lift pits; basement and cellar waterproofing and refurbishment; tanks and ponds; and water and sewage treatment works.
Safeguard Europe's range of market-leading, proven damp-proofing solutions is supported by the company's own highly qualified and experienced staff, as Paul points out: "I have the confidence to specify these products because I've been using them more than five years. Safeguard's website and technical literature are very good and its technical advisers are qualified surveyors, so they know what they're talking about."