Chimneys are vulnerable to rain penetration, especially in winter, and Safeguard Europe — the UK's leading specialist in damp- and waterproofing, and masonry repairs — delivers comprehensive solutions and superb technical support for both external and internal remedial treatments. Its suite of high quality products not only deals with the causes of damp but also its effects: masonry and mortar decay, and spoilt internal decorations resulting from contaminated plaster.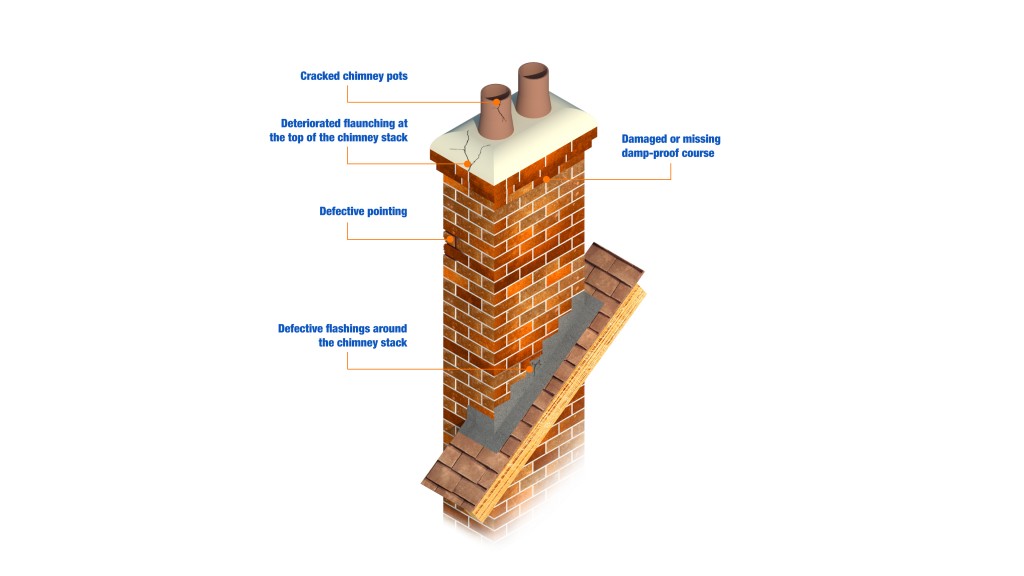 Externally, and following repointing work, Stormdry provides swift, effective yet invisible coating that will protect chimneys from rain penetration. Stormdry Masonry Protection Cream is a colourless water-repellent cream that is applied to brickwork in one coat by brush or roller and lasts for up to 30 years, penetrating the brickwork deeply to form a breathable barrier against water.
Internally, the Dryzone Express Replastering System will deal with chimney breasts that are contaminated and stained with hard-to-block hygroscopic salts much faster than alternative methods such as waterproofing slurries and renders. These are typically applied in multiple coats over several days while the Dryzone System can enable redecoration within a day. The system consists of Dryshield Cream and Drygrip Adhesive.
Dryshield Cream is a breathable, salt-resistant water-repellent that weakens the crystal strength of salts forming in or at the masonry surface as damp evaporates. Easy to apply by brush or roller, the cream acts as a primer for Drygrip Adhesive but also penetrates the masonry structure deeply so as to form a durable, robust bond.
Developed for 'dab' fixing plasterboard directly to masonry surfaces, Drygrip Adhesive forms a strong and long-lasting bond and is resistant to both salts and damp. Once fixed, the boards can be tape-jointed and skimmed as in ordinary drylining situations.
If plasterboarding is inappropriate, Safeguard Europe also offers Renderguard Gold for re-rendering. A high specification additive, Renderguard Gold improves the workability of the render and maintains its vapour permeability while being resistant to salts, so the wall will dry out without the new decorative surface being spoilt by hygroscopic salts or residual moisture rising to the surface.
Where repairs to chimney DPC trays are required, Dryzone cream or Dryrod damp-proofing rods can offer simple remedies that are quick to install. Dryzone Cream is a BBA-approved and patented silane/siloxane material that forms a DPC in brick, coursed stone, rubble infill and cavity walls. Unlike other chemical DPCs, it is not injected under pressure, so not only is it up to three times faster to install than alternative chemical injection systems, but also presents less risk of waste or spillage.
Recognised by both the GPA and IGL insurance-backed guarantee schemes, Dryzone is also safer in use because it is odourless, non-caustic, solvent-free and non-flammable.
To install Safeguard Dryrod damp-proofing rods a drill is all that is needed. The rods are effective in virtually all conditions: walls that are highly saturated, very porous and either highly alkaline – such as in new mortar – or with low alkalinity (old mortar).
And they can also be installed in warm or cold walls – even when the wall is freezing. Comprising a synthetic rod manufactured from advanced polymers, the patented rods are impregnated with a silane/siloxane material that forms a DPC in brick, coursed stone, rubble infill and cavity walls.
Safeguard Europe offers a range of one-day courses covering all aspects of dealing with damp in buildings. For details call Tel: 01403 210 204 or visit www.safeguardeurope.com.