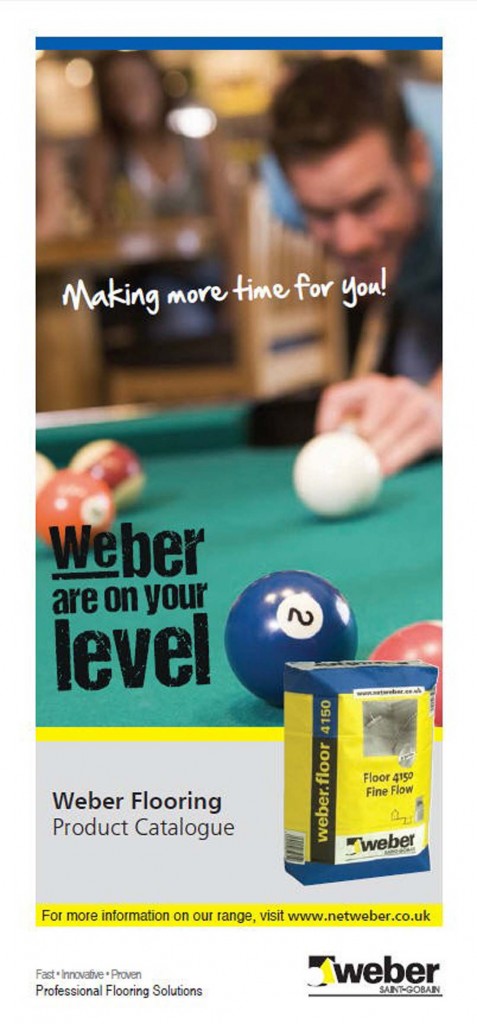 Saint-Gobain Weber have introduced a new product guide that details a full range of innovative flooring screeds for commercial, industrial, design and marine applications.  These easy to use products have rapid drying attributes that allow easy access for other trades in the shortest possible time.  Weber flooring products are the fast way to achieving proven, reliable results every time.
This comprehensive product range has been designed for applicators, main contractors, specifiers and architects to achieve optimum speed, durability and smoothness of finish.  The 32 page guide includes an extensive Product Selector providing detailed application instructions and product characteristics such as thickness, strength and curing times.  These technically advanced, high performance products are, in some cases, ready for foot traffic after only a few hours following application and can be covered with a soft floor covering in 24 hours.  Weber's premix products, which include pumpable, cementitious self-levelling floor screed systems, have been laid over tens of millions of square metres worldwide.
A Best Practice section provides useful advice for specific installations in commercial, industrial acoustic floor and under-floor heating in which guidance is often sought.  A selection of case studies are included which illustrate a variety of projects in which these market-leading products have been specified.
"Saint-Gobain Weber's rapid drying flooring products save valuable time and money, are easy to use and achieve optimum strength and durability," says James Mead, marketing manager, Saint-Gobain Weber.  "They are unquestionably the most technically advanced levelling compounds and screeds on the market."
To coincide with the launch of the new product guide Saint-Gobain Weber is offering customers a Flooring Continuous Professional Development (CPD) presentation which is available for individuals and small groups either on site or at the Saint-Gobain Technical Academy in Flitwick, Bedfordshire.  Training courses are available for self-levelling floor screeds which cover surface preparation in detail and illustrate how applicators should deal with the most common substrates found in commercial applications.
Weber's new 'On Your Level' promotion invites flooring customers to claim a free branded t-shirt or spirit level by simply entering the name of your favourite Weber product, stating why it is your favourite, together with contact details at www.weberonyourlevel.co.uk.
Weber flooring products are made in the UK ensuring efficient availability and lead times, adding to the company's environmental and sustainability policies, reduced CO₂ emissions and transportation costs.
Please visit www.netweber.co.uk for RIBA accredited CPD presentations, product training and brochure downloads or call Saint-Gobain Weber on 08703 330070.  In Ireland please call 028 9335 2999 or visit the new website at www.weber.ie.  A free download of the weber.app for iPhone and iPad users is available from iTunes and from Google Play for Android smartphone and tablet users.  Follow Saint-Gobain Weber