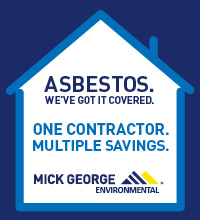 It wasn't all that long ago, Mick George Ltd was exactly that. One business, targeting a niche contracting market within the realms of the construction industry,
But, those days now seem a distant memory. Although the overarching brand remains, the number of trading divisions representing it, is expanding with increasing frequency, challenging such statements.
Each division demonstrates the different specialisations that the company offers, with Mick George Environmental, the latest addition.
Stringent controls make the Asbestos removal industry one of the most regulated in the UK, second only to the Nuclear industry, and thus only 400 licensed contractors operate in the UK. And with the recent revelations reported nationally, surrounding the volume and regularity of Asbestos located in Schools, houses and other public or commercial premises, it will be greatly received that more professionals are at hand to remedy the situation.
Always in the business of carriage and disposal of non-licensed and licensed Asbestos, following a successful audit from Health and Safety Executives (HSE) recently, the company is now accredited to complete all related Asbestos works, and will have a dedicated, highly skilled and experienced team in place to do so.
Most notably, this includes the ability to handle a wider variety of contaminants, including
non-licensed, notifiable non-licensed and licensed Asbestos, uniquely placing the business within the market due to their ability to provide a 'cradle to grave' service.
No longer restricted to simplistic carriage and disposal, the service has developed to incorporate surveys, analytical services, removal of Asbestos contaminated materials, as well as more complex requests to encapsulate, repair damaged materials, or complete environmental cleansing following accidental disturbance of a material.
An attractive proposition indeed, for contractors, developers or tradesmen who are looking for a one-stop solution for outsourcing their domestic or commercial Asbestos requirements, with the added benefit that cost build-ups and quality issues, will be prevented from multiple contractors fulfilling each discipline.
The recent addition to the group will increase Mick George Ltd's ability to offer a fully rounded service to their clients by lending support to the already well established contracting divisions, providing framework agreements and 'out of the box thinking' when it comes to remediation strategies for asbestos contaminated land.
Michael George, Contracting Director at Mick George commented: ''It's just another 'bow in our armory' in our attempt to offer a complete service to our clients.''
George continued: ''We recognise that is often difficult and time consuming for our clients, with many of the provisions they deal with, to find a business that can genuinely covers all basis, due to the various facets that often exist. Our aim is to simplify and make this process more convenient. And it should most definitely compliment a number of our other services in the meantime.''