Makita has introduced a new series of paddle mixers to assist painters, plasterers, floor screed applicators and others who require mixing capacity for paints, resins, plaster, glue, cement and other high and low viscosity materials. These new mixers have twin-grip handles with the on/off button conveniently located on the hand grip. Two- speed models have the gear selection control on the motor body.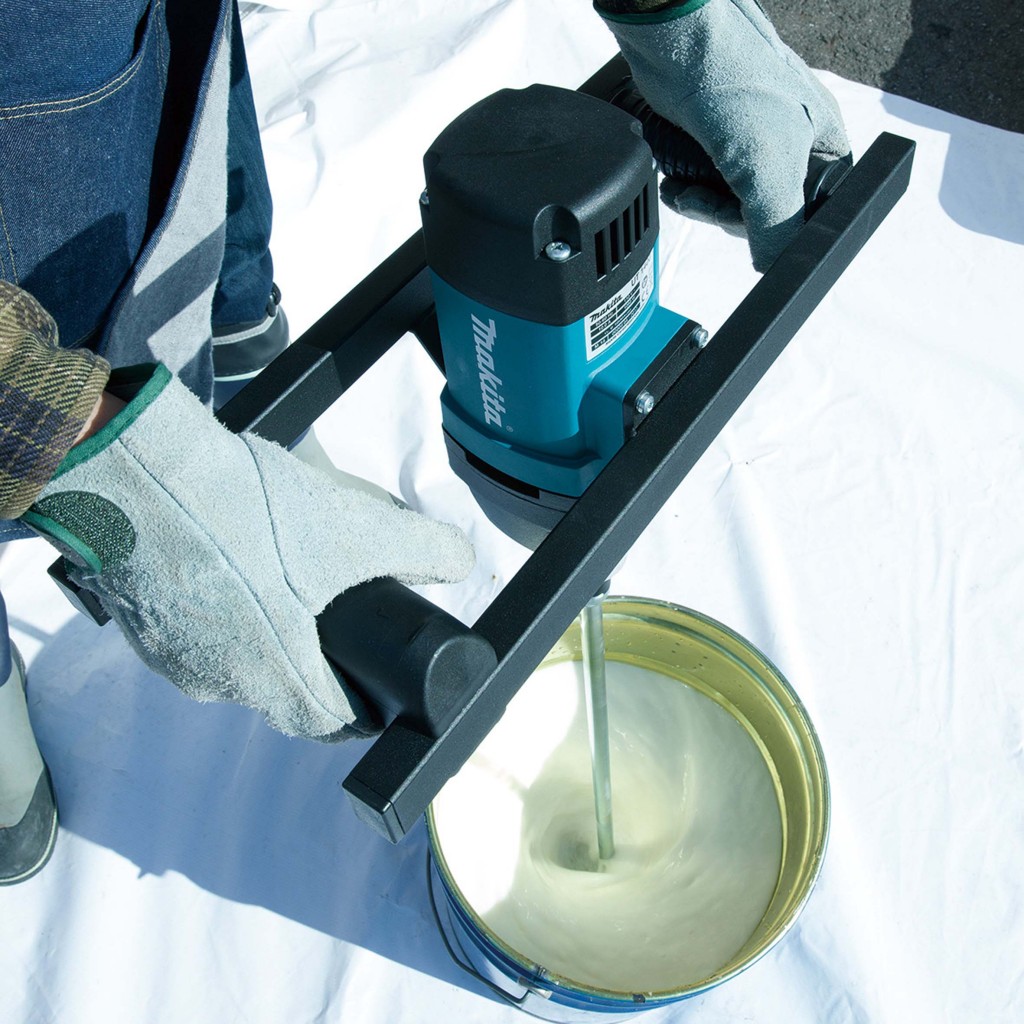 The new Makita UT range of mains powered mixers offers mixing speeds from as low as 210rpm for a full 80kg load from the most powerful UT1600 mixer, to the high speed 400rpm from the 850watt UT1200 mixer suitable for smaller loads of 30kg. These new, high-torque machines are available in either 110volt or 240volt options. All have M14 female threads to accept the most popular paddles. Makita offer a range of mixing paddles in their comprehensive accessory range.
The Makita UT1200/1 is an 850watt 110v mixer that will run up to 400rpm (960watt 240v gives 360rpm) and is ideal for a maximum 120mm diameter paddle suitable for a 30kg load such as paint, plaster, glue or tile adhesive. The UT1400 with a 140mm paddle will stir 50kg bucket loads of plaster, mortar, levelling compound and similar materials. It has a 1300watt motor in the 240v machine which will turn at 580rpm, and 1050watts for the 110v model which will give 560rpm.
The UT1401 is a two-speed mixer suitable for medium to high viscosity materials such as prefab plaster, gypsum, lime render and concrete with 1050watt power from the 110v motor and 1300watt for the 240v machine. Low speed achieves 250rpm and high gear 450rpm driving a 140mm maximum diameter paddle in 50kg loads.
The most powerful mixer in the new Makita range is the UT1600 which, with a 180mm diameter paddle, will turn 80kgs of high viscosity material such as quartz filled epoxy resins, floor screeds, sealing compounds or gypsum. The 240v model has an 1800watt motor to run to 250rpm in low gear and 580rpm in high gear. The 110v version is rated at 1500watts and rotates to 210rpm and 480rpm in high gear. This powerful mixer weighs just 7.1kg and will save many hours of tiring manual stirring!
Please visit www.makitauk.com for the full range of Makita power tools and follow us on Twitter @makitaUK and facebook.com/makitauk for our latest news and product launches.