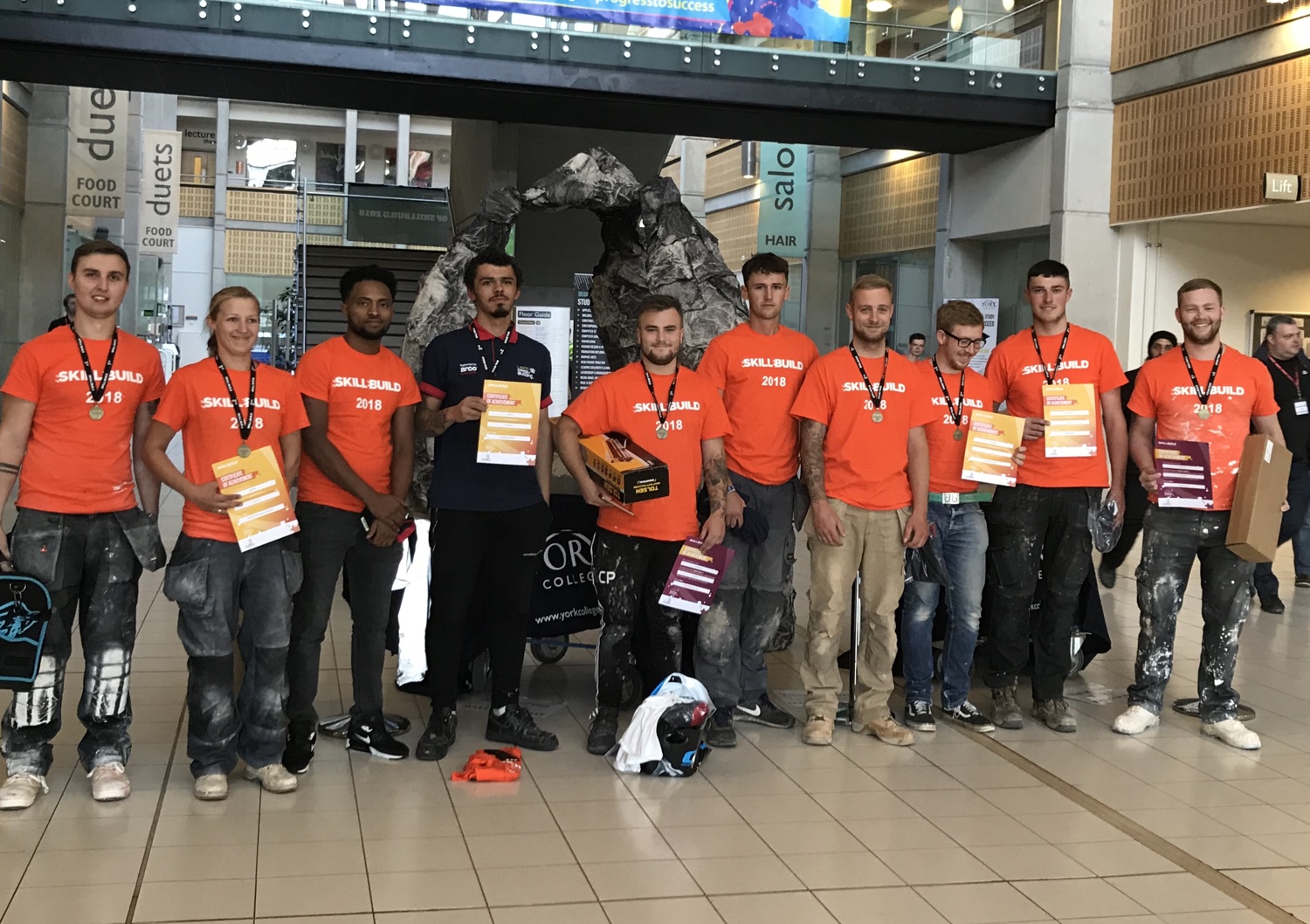 Leeds College of Building is celebrating after 11 of its students won medals in the regional competitions of SkillBuild 2018. Delivered by the Construction Industry Training Board (CITB), SkillBuild is the largest multi-trade competition in the UK for construction trainees and apprentices.
Taking place from March to July, the 16 regional-qualifier SkillBuild competitions attracted trainees and apprentices from across England, Scotland, Wales and Northern Ireland, to compete in specialist construction-industry skills.
Leeds College of Building attained a total of four gold, six silvers, and one bronze medal, seeing off competition from hundreds of other construction students from colleges across the UK:
Carpentry: James Hattersley (Silver, Senior category)
Bricklaying: Luke Kerrigan (Silver, New Entrant category), Tim Smith (Silver, Senior category)
Plastering: Luke Palmer (Gold, Senior category), Ryan Lill (Silver, New Entrant category)
Dry Lining: Jake Emery (Gold), Carla Dibb (Silver)
Wall & Floor Tiling: Callum Pearson (Gold, Senior category)
Roofing: Joe Turner (Gold), Jay Webster (Silver), Kieran Langhan (Bronze)
Students are now awaiting the decision if any of the top-scoring competitors will be selected for the three-day UK SkillBuild National Final – the competition to find the best in UK industry – to be held at the NEC Birmingham from 16-18 November. Winners may then gain the opportunity to represent the UK in the international skills competitions – EuroSkills and WorldSkills.
Mark Sims, Leeds College of Building's competition coordinator and lecturer said:
"We are so pleased with this year's results. All of our students worked so hard and represented the college impeccably. They really did us proud! These results would not have been possible if it wasn't for the dedication of each competitor and the staff who trained our students to these high standards.
"A special mention goes to the roof slating and tiling students who did particularly well, winning all of the top three places in their category, and the wall and floor tiling students also took the top two places in their category."
Student Joe Nicholson also won a silver medal for the equivalent SkillPLUMB competition, the annual skills competition designed to promote standards and skills across the plumbing industry run by BPEC.