The latest development by Family Mosaic Housing Association anticipates future standards of thermal performance thanks to the innovative 'through the wall' building facade system designed and supplied by Knauf Facades.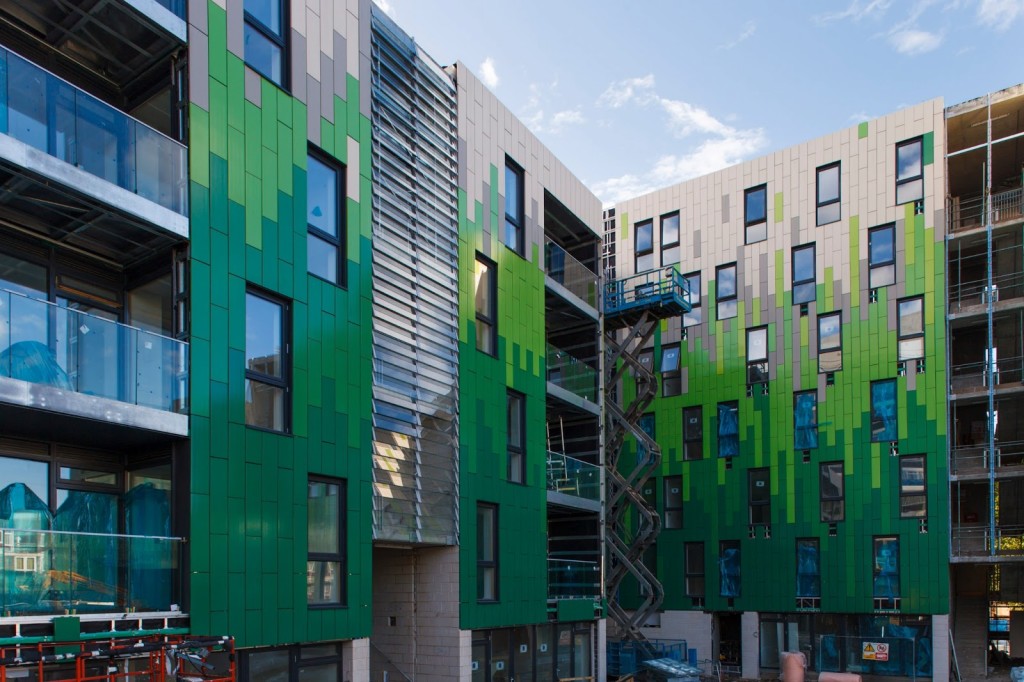 Harper Road, a seven-storey development that is part of the regeneration of the Elephant and Castle area of Southwark in South London, has a U-value of 0.15W/m2K and so goes a long way to meeting the 2016 Government target for new-build of the 'zero carbon home'. The system can also accommodate wind-loadings of more than 1.0kN/m2 and carry the 75Kg/m2 deadload of the terracotta rainscreen.
But, most importantly for Richard Horobin, Operations Director for the subcontractor Drytech Facades, the design achieves this excellent thermal performance without complicating the installation.
"The architect was looking for a very low U-value which traditionally we would have achieved with a standard metal framing and then built up the insulation on the outside of the studs," he says.
"The beauty of the Knauf system is that it meets the U-value required without the need for any additional external insulation, which can sometimes interfere with the support work required for the finishes or cause condensation."
"Another big plus is that it provides a 90 minute fire resistance that would otherwise mean we would have had to install dense products such as mineral wool insulation or cement particle board."
The Harper Road development comprises 72 units – 67 flats in six staircores and five three-storey townhouses. Family Mosaic, the developer, is a provider of shared ownership properties, affordable housing, properties available through part buy part rent and New Build HomeBuy to more than 45,000 people in communities across London and Essex.
Drytech Facades invited Knauf Facades to put forward alternative designs to the original SFS design because an alternative solution using structural insulated panels had already been considered but had been rejected because of its higher overall build cost. The first indicative specification employed: 195mm Knauf ThermaFrame Stud, with a 95mm internal Z bar together with Knauf ThermaFrame insulation, Knauf Windliner (Gypsum Sheathing Board) and 2 x Knauf Frameliner VC taped and jointed internally (split between the internal Z bar).
Once the main contractors, Lovell Partnerships, had approved the indicative design, Knauf Facades then worked with the project architect and engineers over eight weeks to produce detailed drawings for the six blocks that would gain their approval.
Knauf Facades ThermaFrame infill system was chosen over alternative SIPS and traditional SFS systems because it could meet all performance specifications for structural, thermal, fire and acoustic levels and remain competitively priced. It is lightweight, flexible in design, and can accommodate a number of differing external finishes without compromising its core performance levels.
Using Knauf ThermaFrame meant also that there was single source of supply, a full system design and on site assessment, complete with a system warranty.