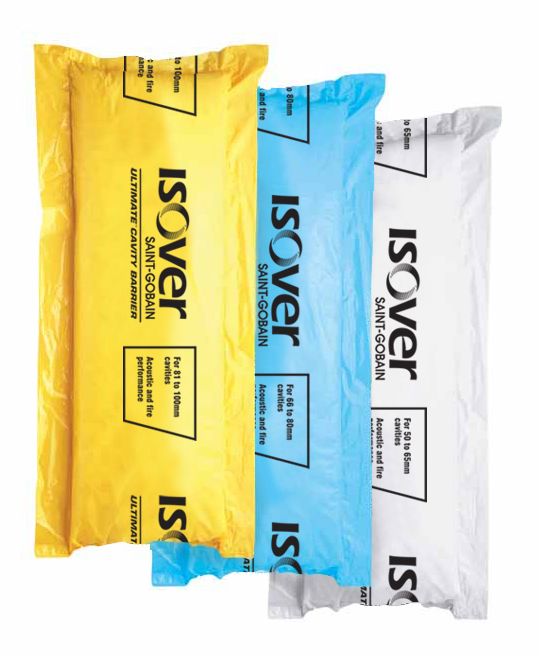 Leading insulation manufacturer Saint-Gobain Isover has launched a new range of cavity barriers, providing a solution to meet fire, acoustic and thermal building regulations in concealed cavities.
The ULTIMATETM Cavity Barrier range has been developed using next generation mineral wool technology: ULTIMATETM, an innovation in insulation created by Isover that combines the fire protection benefits of stone wool with the lightweight characteristics of glass wool. Used throughout the new range, the technology means each cavity barrier features not only high fire protection, up to 120 minutes, but superior handleability during installation.
Meeting fire, acoustic and thermal building regulation requirements, ULTIMATE Cavity Barriers conform to building regulation definitions of a cavity barrier, cavity stop, flexible closer and effective edge sealing. When installed within a masonry, timber or steel frame cavity, ULTIMATE™ Cavity Barriers are designed to restrict the spread of fire, flanking sound and air movement to help provide a safe, peaceful and comfortable building environment.
ULTIMATE™ Cavity Barriers are potentially life saving products and the installation of barriers on-site is vitally important. Incorporating ULTIMATE™ technology supports the integrity of the barriers during installation due to its inherent flexibility, durability and compression qualities.
The new range also supports the installation process by including a storey height barrier. This 2.4m barrier is twice the length of standard barriers which halves the number of butt joints, cutting the risk of weak points within the insulation and minimising the chance of installation errors.
Tom Foster, senior product manager at Isover, said: "The development of ULTIMATETM technology provides the market with a real alternative to stone wool in fire protection applications. The technology allows our new barriers to reach 120 minutes fire protection, the highest requirement of building regulations, without compromising on acoustic performance or ease of installation. This makes this new range of cavity barrier solutions one of the most advanced on the market.
"Having evolved from our existing cavity barrier collection, ULTIMATETM Cavity Barriers are the next generation in fire protection, offering even more advantages to the industry within a streamlined and easy-to-use range."
Tested for both fire integrity and fire insulation by a UKAS-accredited body, Isover ULTIMATETM Cavity Barriers have also been awarded the highest possible Euroclass fire reaction classification, A1.
For more information on the ULTIMATETM Cavity Barrier range, visit www.isover.co.uk