High performance monocouche render by Saint-Gobain Weber has been specified in the construction of a contemporary new build house in Buckinghamshire.  Designed by Zodiac Design, Beaconsfield, this 6,000 sq ft property incorporates many 'smart' construction systems, products and materials that together create a highly technical and sustainable masterpiece.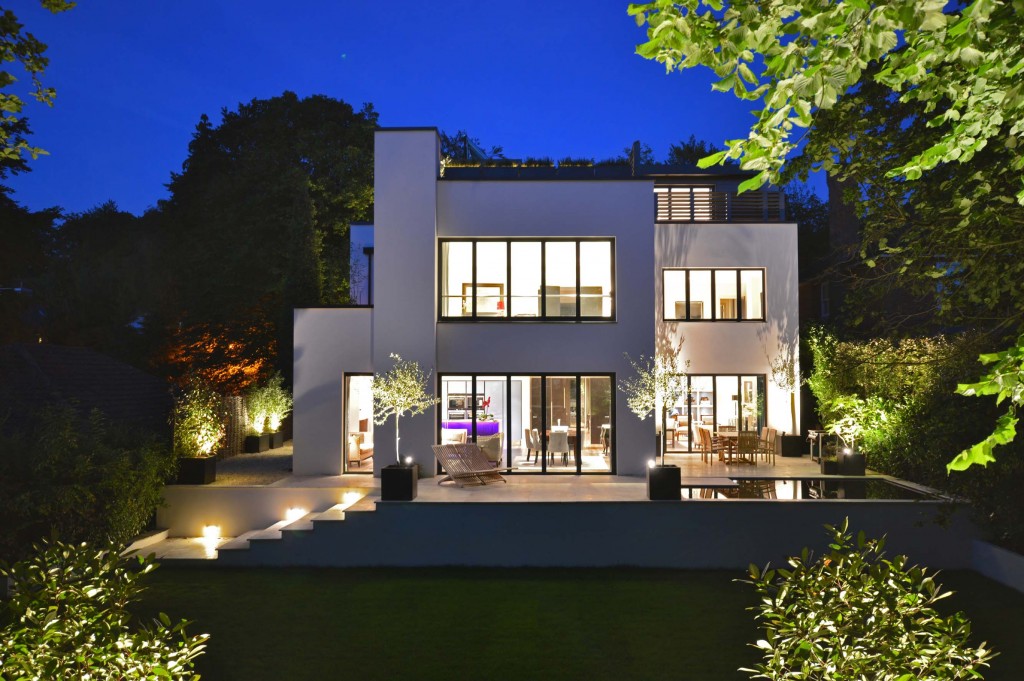 The three-storey property, which includes a 1000 sq ft roof terrace, multiple reception rooms, bedroom suites, gym, cinema and two kitchens, is centred around a triple height atrium topped with a substantial structural glass roof light.
"Nothing about this project was run-of-the-mill," says Howard Reay, Zodiac Design.  "Everything we specified was selected for its outstanding performance, making this a truly intelligent property that will be a joy and a pleasure to live in.
"I specified the Porotherm® precision engineered clay block walling system which has been used extensively and very successfully in Europe for decades.  This single skin process allows very fast construction and large areas can be built in a very short time, offering significant cost savings on the usual labour needed in conventional building."
An ideal match for this type of wall construction is the BBA approved weber.pral M monocouche render by Saint-Gobain Weber.  It has been used in this project in Silver Pearl with a scraped finish to complement the crisp, contemporary lines of this one-of-a-kind building.  weber.pral M offers the multiple benefits of pump application, for speed and consistency, and through-colour One Coat Technology, both of which are recognised for their contribution to minimising programme works.  By reducing the drying time by as much as 50% when compared with a traditional multi-coat system, on-site labour is dramatically reduced contributing to project efficiencies and faster completion.
Saint-Gobain Weber is the first manufacturer of monocouche renders to be awarded an A+ rating as defined in the BRE Global Green Guide to Specification.  This audited material helps specifiers to make product and system selections that will collectively reduce the environmental impact of their buildings while achieving a higher number of BREEAM material specification credits.
"Speed was the essence for the completion of this build project, so I recommended weber.pral M," reports Steve Doherty, Doherty Building Services, Luton, who was chosen to apply the render façade.  "This was our first experience of working with Porotherm® blocks and we took first hand advice from Weber's technical team.  We were especially careful with the hand application of weber.rend aid which acts as a preparatory key coat for rendering.  We made up time with the pump application of 400m² of the monocouche render."
weber.rend aid offers a good key for rendering onto smooth substrates providing excellent suction and resistance to the penetration of external water and improving the weather resistance of rendering systems.
Amongst these advanced construction methods the property has been designed to Passive House principles, the rigorous voluntary standard for achieving the ultimate energy efficiency of a building. Exceptional levels of thermal performance have been achieved which relate directly to improved running costs, lower energy consumption and reduced CO₂ emissions.
"By using this construction system we were able to achieve a good mid-B grade SAP calculation, despite specifying huge areas of glazing," continues Howard Reay.  "Increasing the thermal performance of the walls had allowed us greater freedom of design."
A roof top solar system has been installed and intelligent room thermostats allow total control of the underfloor heating with individually programmable temperatures in every room.  The heating system can be controlled by a smart phone and an advanced technology water system provides mains-fed hot water with a secondary circuit for instant hot water.
For more information about this project, or for technical support, please contactSaint-Gobain Weber on 08703 330 070, or visit www.netweber.co.uk.  Customers in Ireland should call 028 9335 2999 or visit www.weber.ie
A free download of the new weber.app for iPhone and iPad users is also available from iTunes and from Google Play for Android smartphones and tablet users.  Follow Saint-Gobain Weber on Twitter @SGWeberUK for the latest company news and updates.