External Wall Insulation (EWI) by Saint-Gobain Weber has been specified for a large mixed-use development within Barking town centre in the London Borough of Barking and Dagenham.  The development faces Abbey Green and the historic Barking Abbey, a former royal monastery originally established in the seventh century and described as 'one of the most important nunneries in the country'.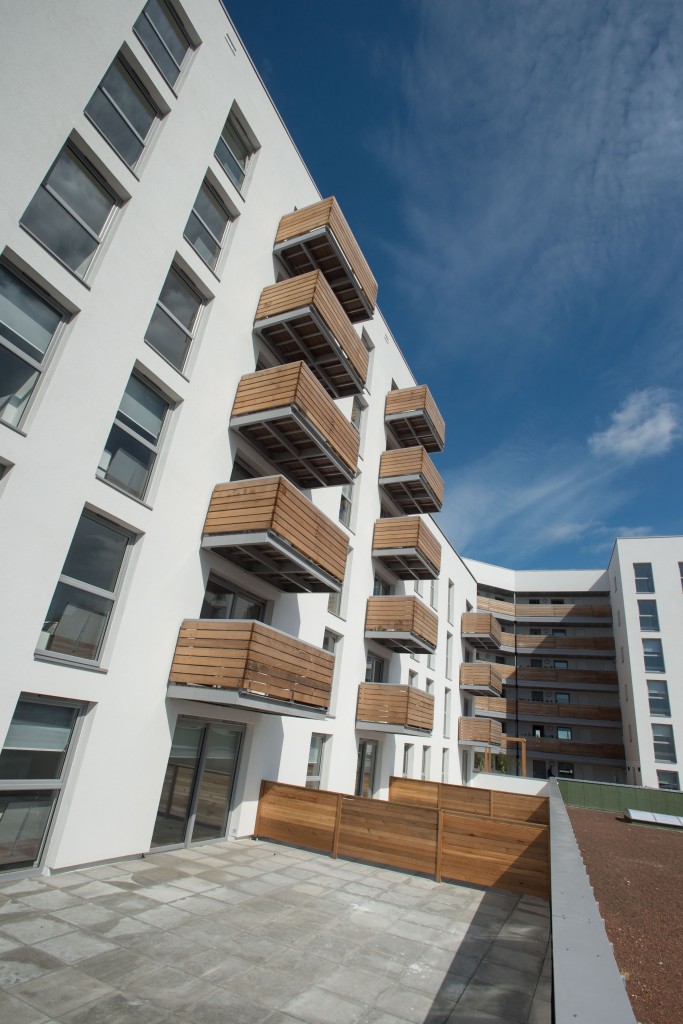 The Barking regeneration scheme consists of a new supermarket store for Asda; modern retail business units ideal for small or start-up businesses; a market square; town centre parking and 100 residential units designed specifically for rent.  Focus has been placed on the integration of the scheme within its historic surroundings.  Chetwoods Architects, planning specialists, and David Miller Architects, selected a sympathetic and traditional palette of materials.
Working for main contractor Bouygues UK, the application of 1600m² of high performance weber.therm XM EWI system to the 100 apartments was carried out by Clarke Facades, insulated render specialists for the UK and Ireland.  The properties are owned and managed by Grainger PLC, the UK's largest listed residential landlord, who has over a century of experience managing tenanted residential properties.
In new build schemes, insulating the external wall can be combined with simple and reliable modern methods of construction, providing cost effective, fast-track build programmes and attractive façades.  The ever increasing thermal requirement of building regulations can be met and exceeded by using high performance weber.therm EWI systems.
The British Board of Agrément certified and Energy Saving Trust listed weber.therm XM EWI is a lightweight system that incorporates thin-coat polymer render with meshcloth reinforcement.  It achieves highly efficient thermal performance, ideal for both refurbishment and new-build projects.  An impressive target U-value of 0.16W/m²K has been achieved in these apartments.
Clarke Facades installed the multi-coat EWI system onto the concrete substrate using 180mm thick EPS (expanded polystyrene) insulation, applying a 6mm meshcloth reinforced coat of weber.rend LAC.  This is a low density, polymer-modified, cement-based mortar which is applied in two passes.  The surface was then primed with weber PR310 in preparation for the top coat of weber.plast TF, an acrylic-based decorative finish, pre-mixed and ready to apply.  Chosen from an extensive range, the finishing colour of Winter White has achieved an attractive, contemporary-style appearance to the new apartments creating a 'warm wall' which eliminates the risk of condensation, is highly resilient, durable and low maintenance.
Mark Wiggins, business development manager, Clarke Facades, says:  "As a company we are very pleased with how this project has turned out.  The workability of the Weber product meant that we were able to work within the challenging build schedule without difficulty.  We are looking forward to continuing this strong supply chain and working closely with Bouygues UK in the future."
The London Borough of Barking identified this key site as a priority regeneration location and is seen as a fulfilment of the Borough's ambition to re-establish Barking's identity working to the exemplar Barking Code specification.
For more information about this project, or for technical support, please contact Saint-Gobain Weber on 08703 330 070, or visit www.netweber.co.uk.  Customers in Ireland should call 028 9335 2999 or visit www.weber.ie.
A free download of the new weber.app for iPhone and iPad users is also available from iTunes and from Google Play for Android smartphones and tablet users.  Follow Saint-Gobain Weber on Twitter @SGWeberUK for the latest company news and updates.