External Wall Insulation (EWI) by Saint-Gobain Weber has been used on the new £22million Queen Elizabeth II Hospital recently opened in Welwyn Garden City, Hertfordshire for Assemble Community Partnership Limited. The QEII is a new generation of patient-centred local hospitals aimed at keeping key hospital functions close to communities while moving specialist acute and inpatient care to fewer larger centres.  The environment has been designed to be sustainable and environmentally friendly with great emphasis placed on ventilation and thermal controls.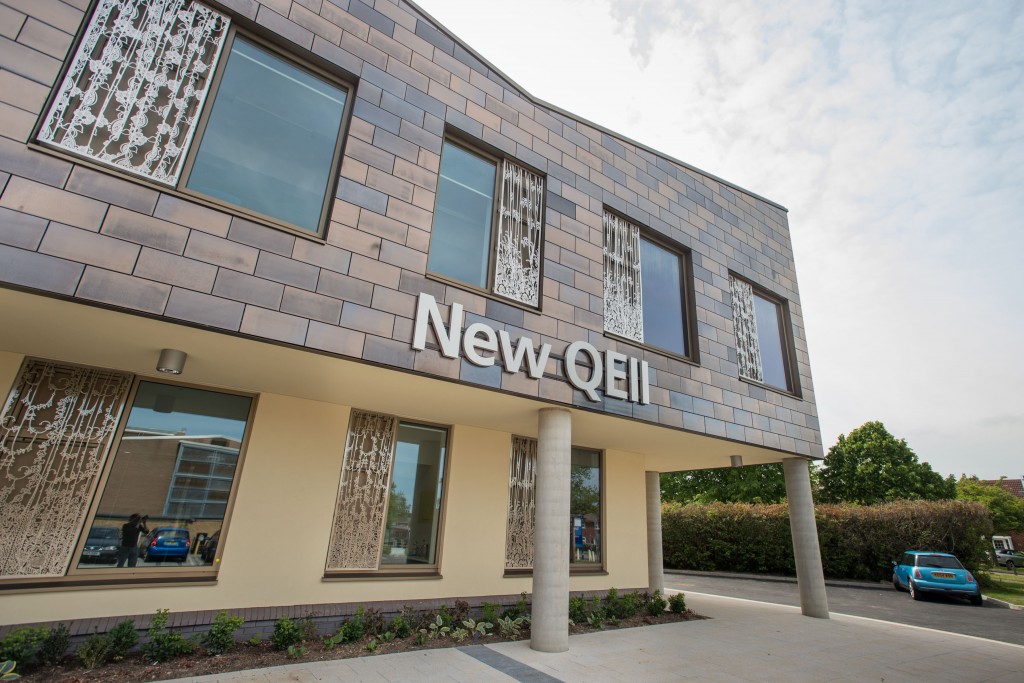 The overall design seeks to respond to the Garden City context through the integration of gardens and buildings with extensive use of timber, render and glass.  Internally the exposed concrete structure of the building has temperature regulating properties while the shape and layout of the hospital is designed to create natural shading.  An attractive planted green roof encourages biodiversity.  The outside of the building is covered with hand glazed tiles together with areas of render. The use of weber.therm XM external wall insulation meets the sustainability brief by wrapping the structure in thermal insulation to create an attractive, weather resistant outer skin. These high environmental and energy-efficiency standards have achieved a BREEAM Excellent rating.
Architects on this project were civic building specialists Penoyre & Prasad Architects, London, with main contractor Mansell Construction, part of Balfour Beatty. The weber.therm XM EWI application was undertaken by Clarke Facades, insulated render specialists for the UK and Ireland.
"We are incredibly proud to have worked on this multi-award winning project alongside Balfour Beatty.  The new QEII hospital provides purpose-built facilities for delivery of world class medical care carried out by NHS nurses and doctors. It is testimony toWeber that the workability of their product allowed us to work within the challenging build schedule and without difficulty," says Mark Wiggins, business development manager, Clarke Facades.
Clarke Facades installed 1400m² of the multi-coat EWI system onto the concrete substrate using a combination of 100mm and 150mm EPS insulation, applying a 6mm meshcloth reinforced coat of weber.rend LAC.  This is a low density, polymer-modified, cement-based mortar which is applied in two passes.  The surface is then primed with weber PR310 in preparation for the top coat of weber.sil TF, a silicone-based decorative finish, pre-mixed and ready to apply.
The British Board of Agrément certified and Energy Saving Trust listed weber.therm XM EWI is a lightweight system that incorporates thin-coat polymer render with meshcloth reinforcement.  It achieves highly efficient thermal performance, ideal for both refurbishment and new-build projects.  An impressive target U-value of 0.20W/m²K has been achieved with this application.
In new build schemes, insulating the external wall can be combined with simple and reliable modern methods of construction, providing cost effective, fast-track build programmes and attractive façades.  The ever increasing thermal requirement of building regulations can be met and exceeded by using high performance weber.therm EWI systems.
The QEII hospital covers an area of approximately 8500m². External landscaping flows under the colonnaded entrance, through the foyer and into the central 900m² outdoor court yard.  This has been planted with mature trees and landscaped for the enjoyment and wellbeing of patients and staff.  A full range of hospital services is provided by the local GP-led East and North Hertfordshire NHS Trust including an Urgent Care Centre, Therapy Services, GP Access Centre and Out of Hours service.
For more information about this project, or for technical support, please contact Saint-Gobain Weber on 08703 330 070, or visit www.netweber.co.uk.  Customers in Ireland should call 028 9335 2999 or visit www.weber.ie
A free download of the new weber.app for iPhone and iPad users is also available from iTunes and from Google Play for Android smartphones and tablet users.  Follow Saint-Gobain Weber on Twitter @SGWeberUK for the latest company news and updates.