weber.therm XM External Wall Insulation ( EWI) has been installed on a two-storey end of terrace, privately owned property in the Brislington area of Bristol.  This is just one of several upgrades being undertaken by the homeowner which have included the addition of a large extension to the side of the property; a loft conversion; the addition of a garden room to the rear and new windows and doors throughout.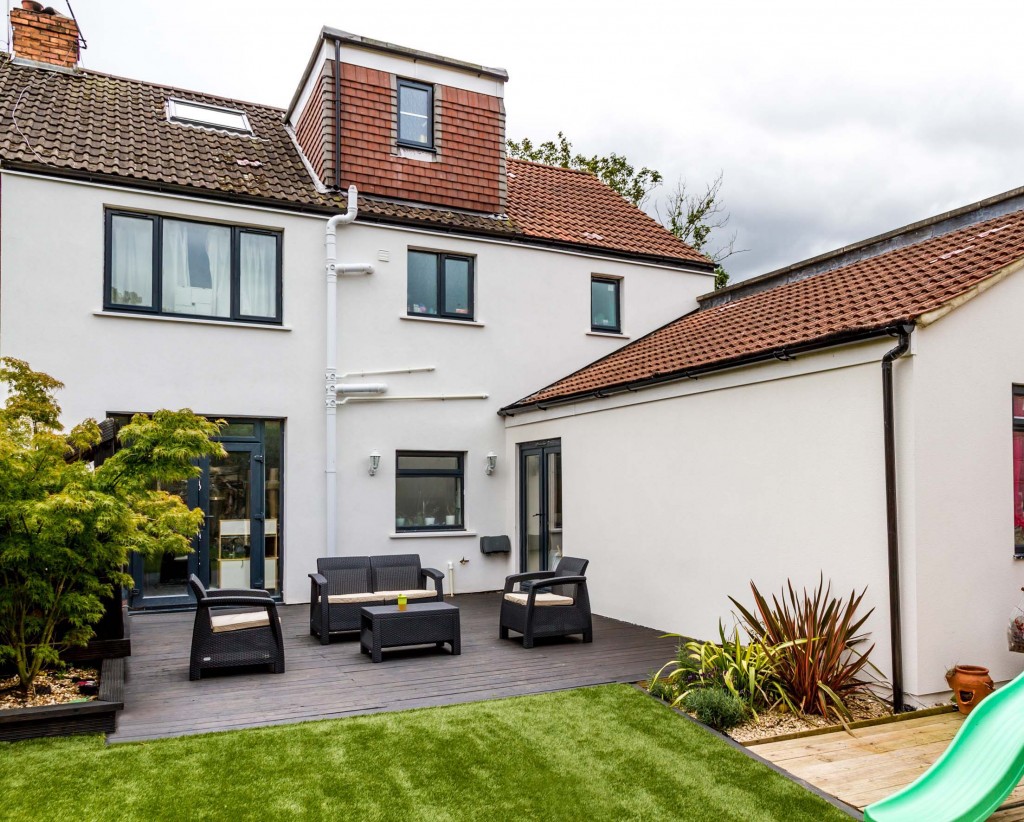 "We bought this 1960s property knowing that a substantial makeover was needed and being in the construction business I could see the potential and have managed a lot of the work myself," says Mark Holden, property owner.  "The property was unattractive, even ugly, with hard to treat solid walls, and it was cold.  We wanted a more attractive home and greater comfort for our young family."
The application of BBA accredited and Energy Saving Trust listed weber.therm XM EWI was carried out by M P Plastering Limited, Somerset, renowned for excellent render application skills and experienced with use of the weber.therm EWI systems.  The couple sought Green Deal funding with the help of M P Plastering, a Green Deal certified applicator, and successfully achieved a 75% contribution toward the £9,000 cost of the EWI project.
"The Green Deal funding was surprisingly easy to achieve," says Mark Pickthall, M P Plastering, "which is just as well considering how cold the house was and that there was a young family to keep warm.  The property looks completely different now with the application of Weber's EWI system.  We like everything about Weber from start to finish.  Great representation, excellent technical support, industry-leading warranties and products that are consistently reliable."
The weber.therm XM EWI system used on this property included 90mm thick expanded polystyrene (EPS) insulation which was mechanically fixed to the outer skin of the wall substrate.  The render process requires two passes of weber.rend LAC, a cementitious render into which the fibreglass reinforcement meshcloth is embedded to give a robust render coat.  When dry the surface is primed with weber PR310 in preparation for a 1.5mm thin coat decorative finish of weber.plast TF, an acrylic based, pre-mixed, textured finish, in Winter White.   The porch has been finished inweber.pral M one-coat, through-coloured monocouche render in Chalk. weber.therm XM EWI is capable of substantially improving the U-value of a property in a retrofit project, and produces exceptional levels of energy efficiency on new builds.
"Where I had made additions and re-modelled the internal space the external walls were in an awful state. And from an aesthetics angle, it was great to cover the whole exterior with EWI.  We can no longer see the scars and joints," continues Mark.  "Work started at the coldest time of year in November 2014, but within weeks we were feeling the benefit of the EWI.  During a particularly cold spell we found there was no need to switch the heating back on after the timer programme had lapsed each morning which would have been necessary previously."  By February the property was fully wrapped and rendered.
"The massive visual improvement to our home is quite amazing," says Mark, "but the saving we have made on our monthly fuel outlay is incredible.  From an average of £150 per month during the winter months we are now paying around £80 a month, that's a very big saving for a family."
"We have carried out many projects on this property and my wife and I agree the EWI application has been by far the most successful element of our plans."
Weber products are manufactured from carefully selected raw materials at purpose-built facilities in Bedfordshire, Shropshire and Ireland where quality and consistency is achieved.
For more information about this project, or for technical support, please contact Saint-Gobain Weber on 08703 330 070, or visit www.netweber.co.uk.  Customers in Ireland should call 028 9335 2999 or visit www.weber.ie.
A free download of the new weber.app for iPhone and iPad users is also available from iTunes and from Google Play for Android smartphones and tablet users.  Follow Saint-Gobain Weber on Twitter @SGWeberUK for the latest company news and updates.