British Gypsum has extended its range of solutions specifically designed to improve indoor air quality by incorporating its innovative ACTIVair technology across three further product lines.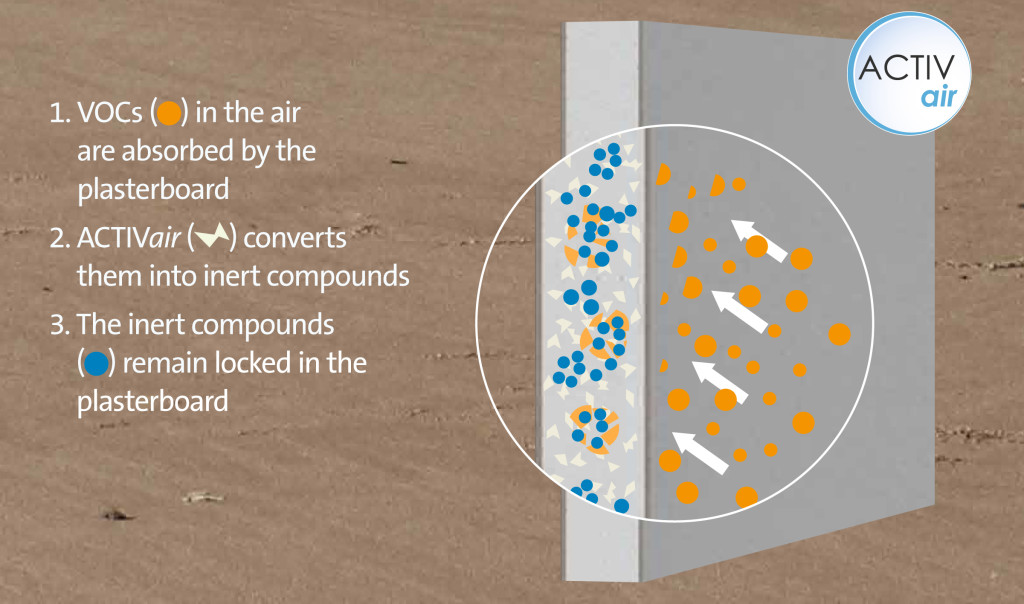 ACTIVair, a mineral additive that absorbs and converts volatile organic compounds (VOCs) and prevents their re-emission back into the atmosphere, was first made available across British Gypsum's Gyptone ceiling range in November 2012. It has now been rolled out as an optional extra across the Gyproc DuraLine, Gyproc SoundBloc and Rigidur H plasterboard ranges.
British Gypsum developed ACTIVair after recognising the potential harmful effects of impurities and pollutants, such as VOCs, on health and wellbeing. The extension of the range follows research by the plaster, plasterboard and drylining manufacturer which found that indoor air quality is one of the top three considerations for architects and building occupants when specifying products, particularly for education and healthcare environments.
Paul Campbell, commercial sector marketing manager, explains: "We commissioned independent research which looked into the issue of indoor air quality across the UK. The research included a survey of architects and building owners. We found that indoor air quality is something that many place high on the priority list when designing and specifying for projects, and rightly so. It's a critical factor, especially when you consider that prolonged exposure to VOCs, which are emitted from everyday items like furnishings, cleaning products and even construction materials, can cause headaches, lack of concentration and increased allergic reactions.
"Since the successful introduction of ACTIVair technology across our ceiling boards and tiles, we have been working hard to widen the offering to other areas of our product portfolio. The latest extension to the range provides even more opportunity for specifiers to make use of VOC reducing products as they strive to improve indoor air quality – an element also addressed under BREEAM."
ACTIVair technology works by capturing VOCs and converting them into non-harmful inert compounds, eliminating the risk of re-emission. The technology, which has been proven to reduce VOC concentration levels by 70 per cent[1], works for up to 50 years providing long lasting improvements to air quality for building occupants. ACTIVair is effective through a paint finish and does not impact on the fire or acoustic qualities of a product, making it ideal for buildings such as schools and hospitals that have certain regulatory requirements to meet and are regularly used by vulnerable groups. ACTIVair solutions are also useful for spaces like commercial offices and hotels which are occupied for prolonged periods of time.
For more information, visit www.british-gypsum.com/Sustainability/ACTIVair or contact the Technical Advice Centre on 0844 800 1991.