It was a couple of weeks ago when I was talking to Scott from Speedskim, and he mentioned that they were headed to the NEC to see the UK's best plastering trainees compete at the SkillBuild Plastering National Finals and show off their talents as plastering trainees.
This event was to be held at the Skills Show and is an event that showcases school children from around the country what they can expect from the careers that they may choose and a lot of the time they can have a go at it at the show. There were IT professionals cooking and catering industries along with construction. This event is a great way for young people to see what it is actually like to work and what they could be doing in the future.
After a few tough weeks for me in the office and also on the tools I decided it would be great for me to get out and see some of the action for myself. I soon found myself sitting on the wrong side of the M6 heading away from the NEC ignoring all the signs but blindly listening to my Sat Nav, "please keep right" so I was an hour or so late and slightly stressed, but I could finally park and start the walk to the arena…
Twenty-minute walking and I am finally inside the arena, and now I started to realise it was probably a good idea to look at a map as I did not think this even was going to be so big. Ok I should have read the welcome pack they sent through the post but to be honest I could not be bothered, and I figured I would be able to work it out on the fly. I lost count the amount of arenas I scurried through elbowing small children as they trip over my feet.
It was like a massive school day out, and every teenager from every school was here and all running about it was chaos. I was feeling a little fragile to say the least after very slowly walking past the hair and beauty section of the show, and I must say it was extremely popular part of the event, mainly for the male visitors to be fair but none the less I was on the quest to find the plastering section and see what the UK has to offer.
After about 40 minutes, I managed to find or should I say stumble across the construction section and the first thing I saw was the tiling, and I have to say it was impressive. I was blown away by what was being done here today, and skill and precision were pretty damn excellent. In fact, it was so good it was one of the first things that I took a photograph of 🙂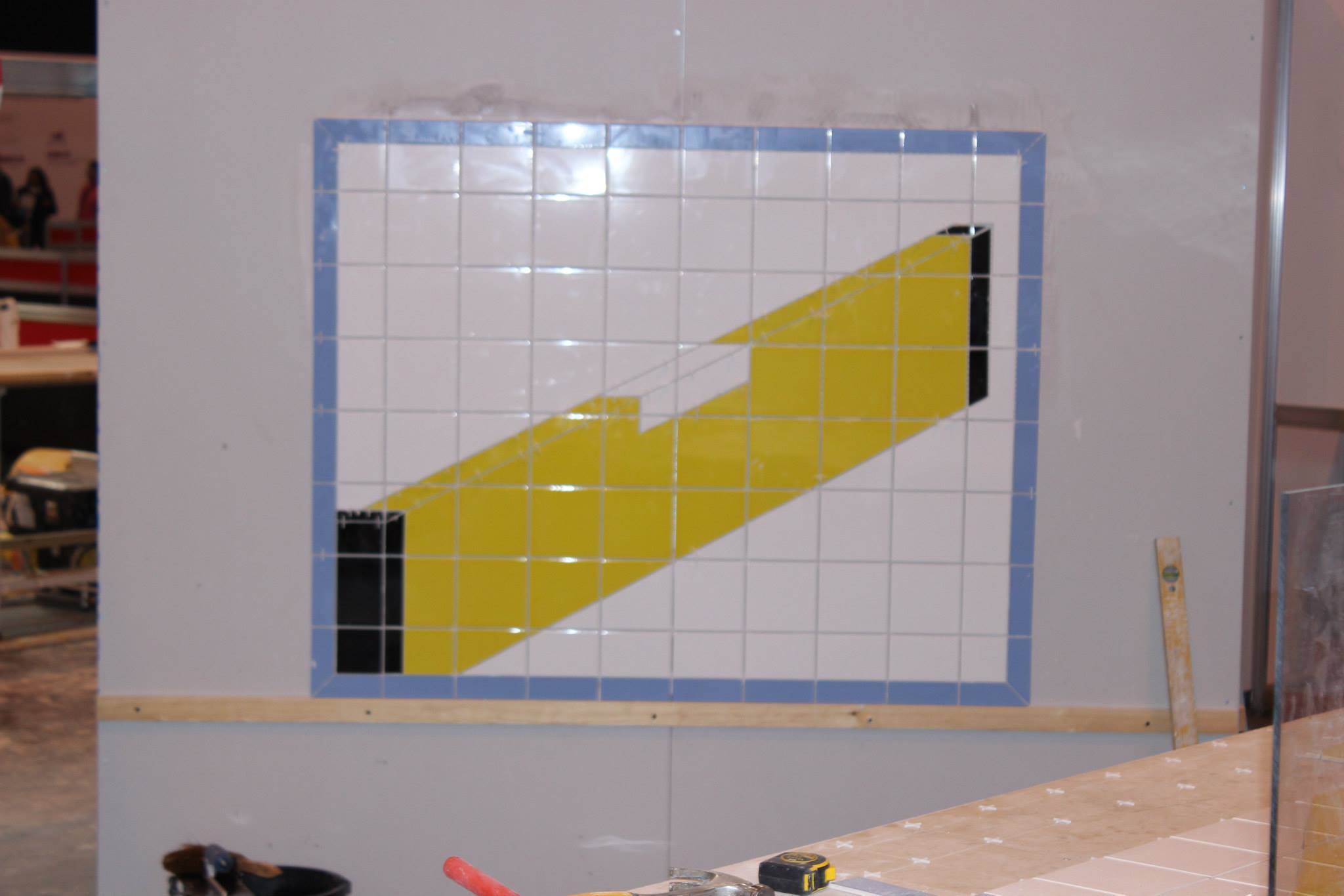 After spending a few minutes admiring the tiling and wondering how they got such perfect cuts, I managed to find the plastering section. Wahooo at last!!!
I was greeted by Scott and Lee from SpeedSkim, who were also sponsoring the event along with market leader British Gypsum, and it was great to put a face to the names of Speedskim as we have spent a lot of time over the last couple of years talking, and so it was good to meet at last.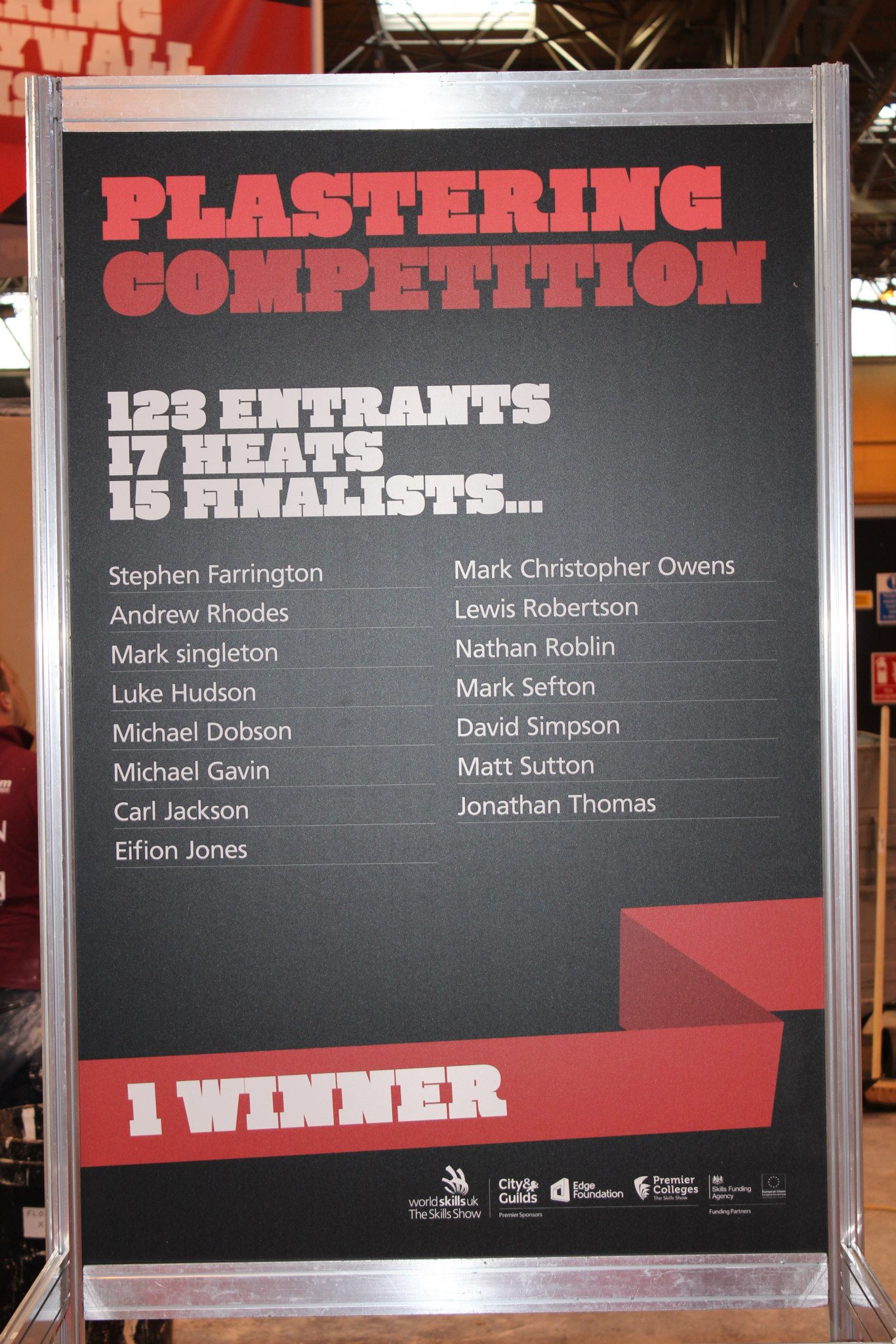 I was taken into the working part of the SkillBuild Plastering National Finals and got to meet the judges and Paul Dixon of British Gypsum and start discussing what each of the contestants had to do and how it was going to be judged. I was quite amazed by the range of people competing from fresh out of school to people who were changing professions. It really was a fantastic mix. When I was there the contestants had a wall that had two returns on it and in each section, they had to do different things.
The returns on the walls were meant to be 1200mm but due to an error. They were only 600mm and so the competitors had to do the plastering on the back of the walls and not on the sides, and this was a real shame as this meant the general public could not see exactly what was going on butt still none the less this was a competition, and the show must go on.
If you follow The Plasterers Forum on FaceAche, then you will have already seen the photos from the event that I took, and as you can probably tell the level of work was very high, and I was particularly amazed by the fibrous work that the competitors were doing. There were a few restrictions on advertising at the event, and British Gypsum needed a way to get around this, and they decided that it would be good to have the word "Thistle" written in fibrous plaster right through the middle of the walls of all the competitor's work, and I have to say this was very impressive.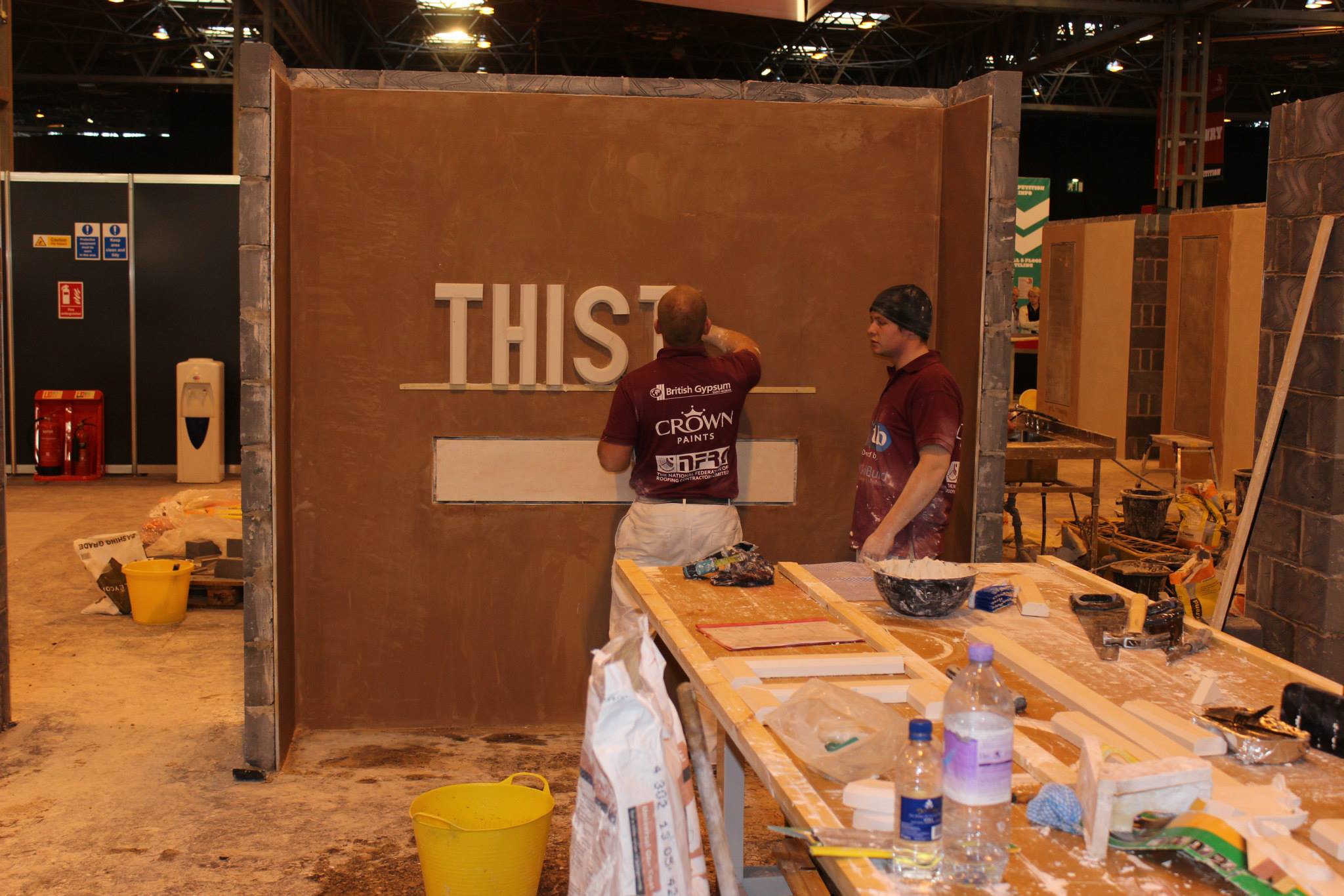 I have never seen fibrous plastering being done and spent a long time just watching the skill build competitors doing their thing, and I have to say it was pretty damn impressive.
I was only able to attend one day at the Skills show due to other Plasterers Forum errands and so after spending a fantastic day with Speedskim, British Gypsum and all the competitors, I was sad not to see the final results but thankfully, Scott from SpeedSkim was keeping me in the loop and updated with photos, so I am proud to announce The Plastering National Final Gold-medal winner was Eifion Jones of Coleg Menai in North Wales.
Even from seeing Eifion on the Thursday, he was quite clearly very talented but also looked very relaxed, and so I was not surprised to hear it was him that won. So a massive well done to Eifion Jones. Furthermore, to his tutor and mentor is Dave Gashe.
The SkillBuild Plastering National Finals was fantastic event, and I hopefully am going to be attending a few more over the next year or so maybe in the future The Plasterers Forum or Plasterers News will sponsor an event 🙂
I would like to thank Scott and Lee from SpeedSkim for making me feel welcome and also British Gypsum and CITB.
Hopefully, this gives you a b it of an insight into the event, and if you have any questions or comments then, please post them below.